"There is no good and bad weather, only good and bad equipment" this remarkable phrase from Robert Baden-Powell is surely true but in bike-packing, you have to cover also another topic regarding the weight and the space this good equipment take on your bike…
If you have to carry your stuff during a 5 days race into the desert, crossing the atlas in February you need to know from the beginning that you will leave some of your good equipment at home.
I usually keep it simple, I create a list of all the stuff I would need, and then I proceed to simplify…
The list is organized into thematic areas:
Bike, a check-list of all the component of the bike (from saddle to the wheels)
Electronic, a check-list of all eletronic component you will need (lights, navigator, cables, chargers, etc.)
Mechanic, a check-list of all you need to repair your bike and the components
Bags, a check-list of what you want to use to store your stuff on you and on your bike (backpack, frame bags and dry-bags)
Clothing, this is a huge field of discussion (the main question is do you want to change your bib during the race?)
Sleep, a check-list of stuff you need for sleep (mattress, sleeping bag, bivy bag, pillow, etc.)
Water, a check-list of all you need for drink (bottles, camelbag, depuration device, etc.)
Eat, better to start the race with some bars…
Medicines, a check-list of what you need to take care of you
Documents, a check-list of what you need to be recognized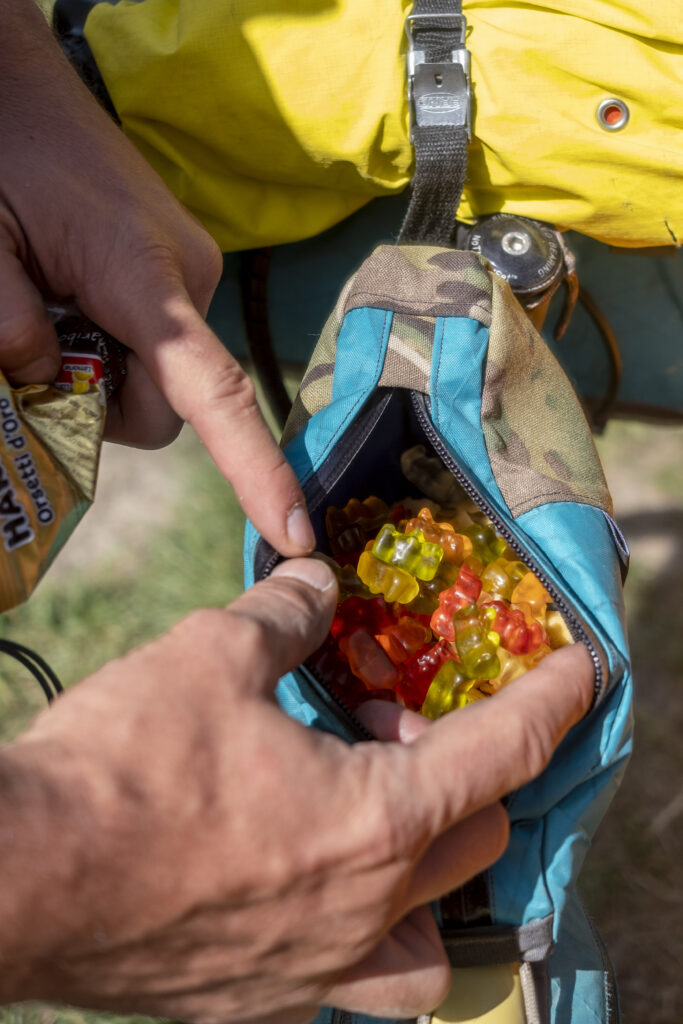 The most difficult thing after completing the list is to understand what you will leave at home. Except for the jelly bear of course, that cannot be left behind, I usually start to fit my bags with the mandatory stuff. In general, you can negotiate with:
Clothing: do you really need a change? maybe not. You can use the space of a second bib and jersey for a second base layer and shorts for the night.
Sleep: depending on the season / the highest mountains you can leave the sleeping bag at home. During TCR I saw manies sleeping with just mattress and bivy.
In this way you can load less wight and maybe have lass bags. One of the best assets I had during a race was Italy Divide in 2018. Just a frame bag and a front bag for a 1K km race across Italy!
Anyway, there are so many schools and ways to approach a bike trip/race. My mate Stefano for example prefers to carry as much as possible for cook, sleep, and cold. It depends on your habits the most important thing is to enjoy the time you have on your bike. For any questions or more info please write to us!
Thanks our partners:
3T for the exploro frameset
Shimano for wheels and groupset
Fizik for the amazing saddle Temple Argo R3 and super comfort terra X5
Panaracer for the tyres Gravel King SK+
Missgrape for frame bags and all the help
more on @muntagnincitadin